Since Christmas holiday is only few days away, there will be several days for Americans to have a rest and stay together with their parents and friends. At this special holiday, some people like to go nuts with the decorating and cooking, while still some young people want to stay with friends to hold a party and sing together.
While in order to get a wonderful atmosphere and have fun, a little" wow-factor" in a small living room may have more feelings. Have one laser star projector and disco laser light sometimes can give us a different experience.
Mbuynow.com has offered that equipment with super deals at its Christmas Sale, the holographic stage light has adopt latest laser technology, which can give green and red laser in various shapes and images like fireworks, stars etc. The most important point, there is a supporting tripod for you to put it in a striking place. And this laser stage light is sound activated and also can play automatically or according to music volume. Take this laser stage projector home, you will be the king holds the whole party. Since it is comes with small size and you can even take it to community squares or parks. A fascinating day begins with this stage light. While for the 3 in 1 party handheld laser light show disco, it is really mini and useful; the green laser beam can change in various patterns.
With these products, there will be livelier for all of you to relax yourselves completely, and they can use for many occasions like the birthday party and other activities.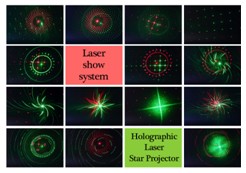 Best deals on the two items:
Portable Laser Stage Projector Sound Activate Showing System for Entertainment for £44.99
3 in 1 Mini Party Handheld Laser Light Show Disco Hot Dance Lighting for £18.5
Note: While if you want to buy other items together at mbuynow.com for your Christmas gift lists, you can go to the main store to see more. Orders over £100 are able to enjoy an extra 8% off and free shipping worldwide.