Since the AGM HID Torch FH-02 entered into our life, it is a long time to waiting for the innovative HID torch. Now we are proudly introduce the new AGM FH-08 diving scuba light to all users, especially the diving enthusiasts.
AGM HID scuba light FH-08 approves the rigorous test (spectrum tester, EMC tester, ATE tester, ROHS tester, deep-sea diving pressure tester) which is sure to be your reliable partner. It boasts for long-life, reliable, the most professional waterproof piezo swithch, high brightness which up to 5000LM, strong focus refletor design (1200 meters illumination max), high capacity battery (7800mah rechargeable lithium battery max).
Structure
In addition to these advantages, let's have a look
at the design of the cool gadget.
From the picture show above, it is obvious that the AGM HID dive light has very simple components that include: piezo switch, reflector, lamp, handle, ballash and battery.
Fog and Smoke light
Another feature needs to mention is that the light packed with two lenses: fog lens and flood light lens. When you want to take the pictures, you can use flood light lens. When the water is not clear, you can use fog lens. That's because the light head ranges from a fog and smoke penetrating 3-degree spot beam to a super-wide angle flood beam.
HID diving light FH-08 dimensions
With small size (230mm x 158mm) and light-weight design, it is able to carry it with wherever you go.
Application
AGM HID light FH-08 is suitable for outdoor and indoor use. The mainly purpose for this HID light is for diving. High-intensity discharge technology makes it has the superior intensity and tight focus. They are much brighter than current LED configurations and they are much easier to focus.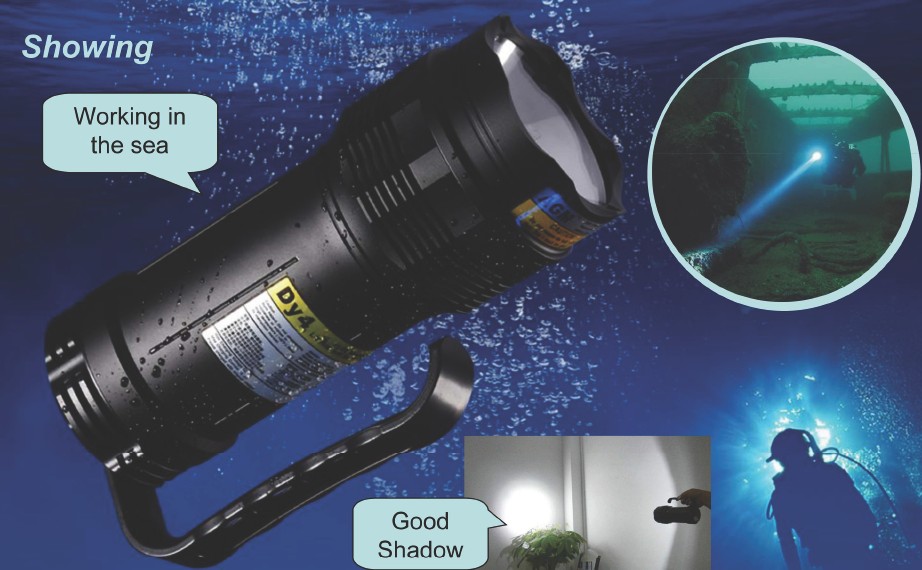 agm-hid-light-working-in-the-sea
With this superior scuba torch, you can easily to find your buddy underwater. Heavy duty, non-magnetic, corrosion resistant ensures long time to use, the easy operate design (can be operated with fingers, gloves and through elastomeric overlays) also helps this cool system outstanding of other brand diving light equipment.
Change mode setting
DYH-06 series with different modes (according to customers' requirements), just pushing piezo switch surface to set different mode
In the package
1 x 65W HID dive light torch
1 x Lithium Ion Battery
1 x Charger
1 x Car Adaptor
1 x Wrist Ring
1 x Filter
1 x Instructions
1 x Precision insurance box
Other parameters of the AGM HID scuba torch
Body Material: Aluminum
Wattage: 65
Battery Type: Lithium Ion
Certification: CE, RoHS
Light Source: HID
Waterproof: Yes
Waterproof Standard: IP68, underwater 100m
Application: Diving, Rescue
Battery capacity: 6600mAh
Warranty: 1 Year
Power Source: Rechargeable Battery
5 output settings: High/Middle/low (65W/45W/35W.)
BULB LIFE: 3000 hours
Body Color: Black
Comparison with FH-02
Compared with the FH-02 HID light torch, the FH-08 is more suitable for diving and rescue use, while FH-02 has much longer irradiation distance and for daily use. But, both of them are reliable and high power.
| | | |
| --- | --- | --- |
| Performance | FH-02 | FH-08 |
| Power | 85W | 65W |
| Modes | 3 modes (85W/65W/45W) | 5 modes (65W/45W/35W) |
| Irradiation distance | 2.75km + | 1.2km+ |
| HID Battery | 7800mAh | 7800mAh |
| Warranty | 6 months | 1 year |
| Bulb work time | 3000 hours | 3000 hours |
| Other Features | SOS Signal | None |
| Price | £79.99 | £135.00 |
| Application | daily use, diving | diving, rescue, daily use |
Choose from the wide range of flashlight torches for your next trip! Mbuynow has stocked thousands of lighting system which is essential equipment in our daily life. And free shipping worldwide service and superior customer service will not let you down.
Most match model:
35W Torch HID Xenon Bulb Flashlight Waterproof with EU Chargers
240LM Zoomable CREE Q5 Mini Flashlight Bike Light Compact Waterproof 240LM 3 Modes
SSC P7 Flashlight 900 Lumens Waterproof Torch Light with UK Charger
7500 Lumens Torch High Power Flashlight HID Battery Essential for Outdoors
Colorful Mini LED Flashlight 3W Red Cover Small Torch Compact