Get the best deals on RC airplane engines at mbuynow's special offer through the whole January. There has brought two latest engines out with the amazing prices for these RC hobbyists, the latest models and super low prices from the brands you trust most.
All shoppers can enjoy the free shipping for shipping these gas engines to your destination no matter where you are, and you do not need to pay for the custom tax too.
Featured with several large and famous gasoline engine manufactories, mbuynow.com is able to offer all these products at a price as lowest as the factory price. All these products are promised to be genuine and come from the original equipment manufacturers. However, due to mbuynow.com has built a long-term cooperate with these large factories, they can always get the products at a price lower than any other retailers, on another hand, this online store is focus on providing the best products directly from factory to the end users, and no middlemen during doing the business, so they are offering low prices in the market.
Recently, mbuynow.com has brought in two new RC gasoline engines: DLE61cc and CRRC GP50R. Both of them are new to the market, and they are made of the most advanced technologies, also the special designs and wonderful performances are attracting these RC hobbyists who seeking for different experiences.

DLE 61cc Single Cylinder Gas Engine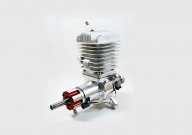 CRRC PRO GP50R 50cc Petrol Engine
DLE 61cc Gas Engine with Muffler, Standoffs, and Electronic Ignition: £273.00
DLE electronic ignition – Electronic ignition is the no-hassle answer to simpler starts, higher performance and minimal RF noise. Loaded with "extras!" – With DLE, accessories are an added value instead of an extra cost.
Specification
Displacement: 61 cc
Output: 6.0 hp @ 7,500 rpm
Idle Speed: 1500rpm / min
Ratio of Compression: 7.6: 1
Ratio of Lubricating Capacity: 30: 1
Sparking Plug: NGK CM6
Ignition Volt: 4.8 – 8.4v
Exhaust Amount: 61 cm3
Static Thrust: 15Kg / 100 meters altitude
Static Thrust: 13Kg / 1800 meters altitude
Propeller: 22×10; 23×8; 23X10; 24X8
Diameter x Stroke: 45 x 35mm
Engine: 1.56 kg
Muffler: 80 g / 85 g
Ignition Module: 211 g
Requires: Unleaded gasoline, oil, ignition battery & propellers
CRRC PRO GP50R 50cc Petrol Engine with muffler and CD-Ignition: £199.99
This gasoline engine is specially designed for the RC model aircraft, with the excellent quality and durable materials, it can do a wonderful performance for the RC hobbyists who want to enjoy a different flying. Featured with the CNC machined crankcase, new designed crankcase's capacity &compression ratio, adjustable position of induction magnet, new prop assembly, new prop assembly and new CDI, this engine is welcomed by many RC hobbyist.
Specification
Displacement: 50.8cc
Maximum Output: 5.4 HP @ 7800 rpm
Bore x Stroke (mm): 43mm x 35mm
RPM range: 1300-7600 rpm
Carburetor: Walbro (Diaphragm& Butterfly Valve)
Weight: 1888g (Including CDI and Muffler)
Ignition: 4.8v Auto Timing Ignition
Fuel mix (ratio of gasoline and oil): 25 to 35:1
Lubrication Oil: 2 cycle engine oil.
Propeller: 22 x 10, 22 x 8, 23x 8, 24×6 (2-blade prop)
Cooling System: Air Cooled.