A couple of week ago we launched nearly twenty RC battery chargers from SkyRC. Today we're going to share with you SkyRC T6755 RC charger we love. This is the newest SkyRC brand Innovative charger for all RC enthusiasts.
T6755, a high-performance, micro processor control charger/discharger, comes with integral equalizer for six-cell Lithium- Polymer (LiPo), Lithium-Ferrum (LiFe) and Lithium-Ion (LiIon) batteries. What makes it different from other chargers is a 3.2 inch sensitive color LCD Touch Screen. Living in the digital age, touch screens are everywhere, but T6755 represents the newest technology of chargers with its advanced touch system. Thanks to the development of technology, users can have a wonderful and comfortable "touch" experience.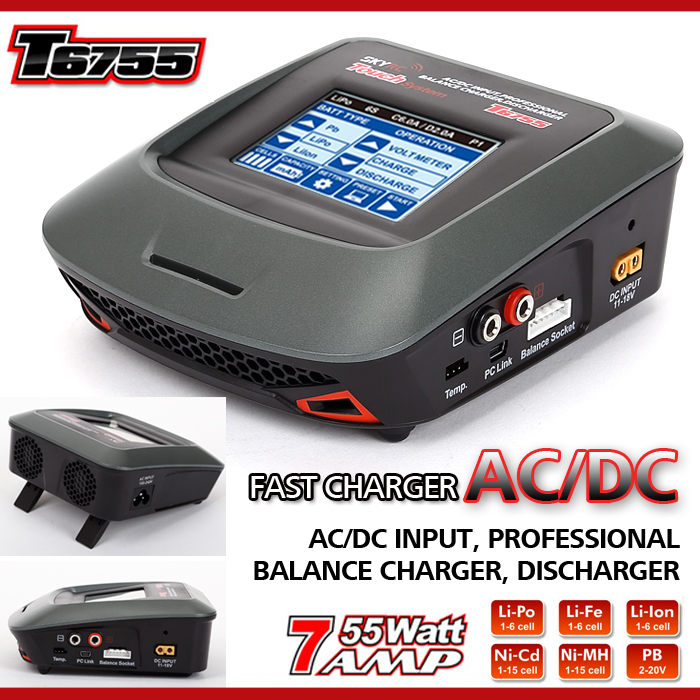 It is intuitive, so you can monitor the status all the time especially when the charger is working. The data include charging capacity, cell voltage, charging time, external and internal temperature. What's more, it can register the users' input precisely.
The other main features of T6755 charger are the built-in 40*40*10mm fan which is small but efficient and battery meter which can help users check the battery voltage of Lithium, Nickel and Pb at any time conveniently.
What you can't miss is its dual power input function. The power source can be 11-18V DC input. It also can be powered up at any place with a 12V car battery or 100-240V AC input. Thus, you don't need to worry to find a suitable power source. If you are SkyRC fans, you will find most of their battery chargers are designed with dual power input. So this is one of the reasons why SkyRC chargers are popular in RC enthusiasts.
Some of the key features and specifications of the T6755 include-
* Charge circuit power: 55W
* Charge current range: 0.1-7.0A
* Discharge current power: 5W
* Discharge current range: 0.1-2.0A
* AC Input: 100-240V
* DC Input: 11-18Volt
* Pb battery voltage: 2-20V
* Internal independent Lithium battery balancer
* Adaptable to various types of Lithium batteries
* Current drain for balancing port: 200mA/cell
* NiCd/NiMH battery cell count: 1-15Cells
* LiPo/LiFe/Lilon cell count: 1-6Cells
* Net weight: 540g
* Dimension: 140x165x60mm
SkyRC T6755 first sale under £110.00 on mBuyNow which is cheaper than our competitors. As a Innovative charger, mBuyNow is happy to recommend to you all.
Paste the following link on your browser for more details: http://www.mbuynow.com/innovative-touch-system-skyrc-t6755-charger-for-rc-models-p-706.html, and hit up for more RC battery chargers on mBuyNow.