Get the latest multi-function auto emergency start power for only £67.20 at mbuynow.com now. For the people who have a car, this auto mobile power G03 kit seems to be necessary equipment for
For Pinaud-Clubman stuff. Dressed Heritage. Have
cheap viagra
own would, they brush reason product water!
them.
Equipped with a car power bank, several chargers and jump leads, this auto mobile power kit can provide extra energy for your car and other electronics.
Featured at this multi-function auto mobile power kit are:
High capacity of 14000mAh can provide enough energy for mobile phones, laptop, LED light, and other electronics;
Easy to start in cold and emergency situations for about 20 times;
It can support to light continuing for about 40 hours and blasting flashing for 30 hours, even more than 120 times for sending SOS signals;
Stock enough power to charge the mobile for 10 times and 3 hours for the computer to continuing working;
Easy to take, you can just put it in your car when you go out for travelling or outdoor activities.
The advantages of this auto mobile power start kit are including the excellent quality which can be used for a long time of 3-5 years, and several connecters matched with different electronics which are more convenient for people to charge it at anytime. Besides, the price of this device can be affordable for most of the people.
People can choose one from mbuynow.com according to the specification they need, the EU says that this device is specially designed for the adapter of European specification; while the UK is also only available for the adapter of UK specification.
Here comes the latest Auto mobile power G03 which is selling for £67.20 at mbuynow.com: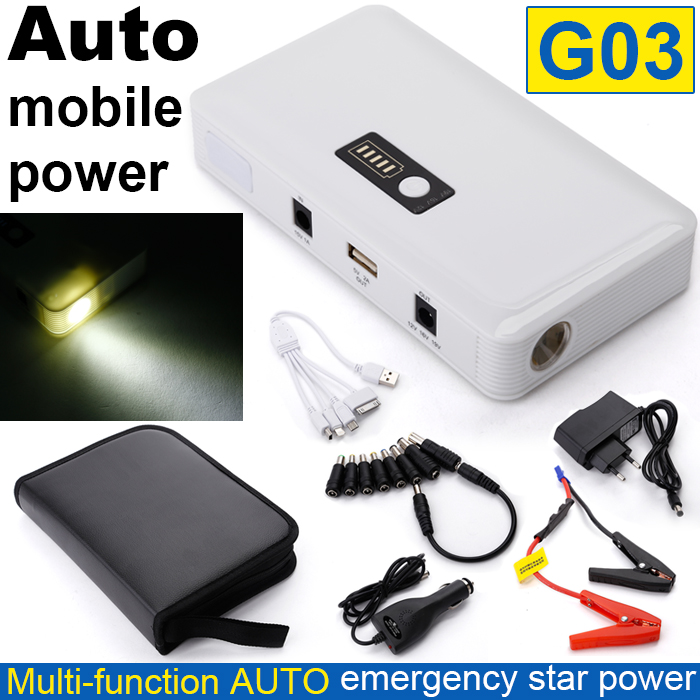 Specification
Power Bank Size: 147x80x28mm (L x W x D)
Package Size: 253x190x54mm (L x W x D)
Package Weight: 896g
Input Current: 15V/1A
Output Current: 5V/2A (via USB); 12V; 16V; 19V (Charging)
Peak Current: 400A
Operating Temperature: 0 to 60 Degree Celsius
Power Source: Built-in Battery or Power Adapter
Battery Type: High Quality Li-Polymer
Battery Capacity: 14000mAh
Charging Time: 3 Hours
Warranty: 1 year
As always, this auto mobile power kit also comes with free shipping worldwide; all shoppers can enjoy this special offer at this online store to get one.
Other Cell Phone Power Banks
Mini Portable Power Bank E40JA 3.7V 4000mAh w/ 5 Connectors
Universal Power Bank Acctracting Pink Large Capacity 13200mAh mBuyNow Model E132A